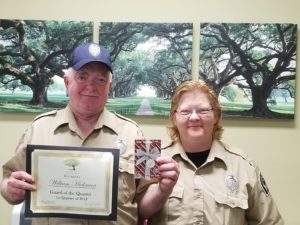 We are pleased to announce Mr. William Hickman has been selected as the recipient of the "Guard of the Quarter" for the first quarter of 2018. Mr. Hickman has been with Vinson Guard Service and at Beau Chene for 15 months, becoming a full-time guard in June 2017. He currently works at the East Gate from 6 am until 2 pm, and at times works the outside lane at that gate from 3 pm to 6 pm.
Mr. Hickman is a Navy veteran, having guarded nuclear warheads on a destroyer and serving 3 tours overseas. Mr. Hickman said in the 6 months he has been at the East Gate, he has tried to improve service during his shift. He has noticed a general change in attitude, such that fewer residents are expressing dissatisfaction about the quality of service. He said recently when working the outside lane at the East Gate during peak traffic times, he had also been trying to alert the residents that the RFID entry system was about to go on line and that a RFID tag would be needed to use the lane.
Mr. Hickman has excellent attendance and is a consistent, reliable security officer. Please join us in congratulating him for his special recognition. William is pictured here with Chrystal Jacobs, Branch Operations Manager, Vinson Guard Service, Inc.
Submitted by Bill Maier